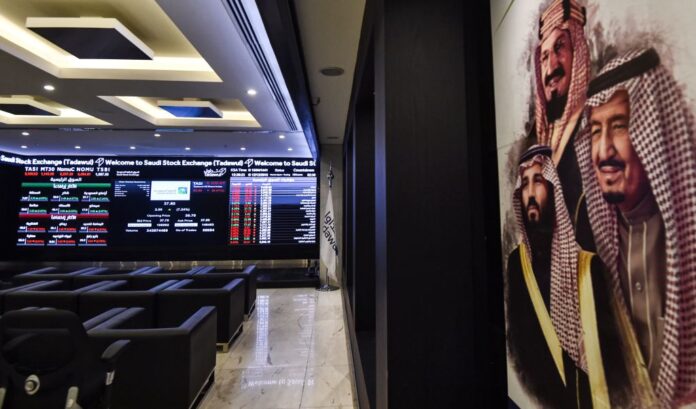 RIYADH: Saudi Arabia's stock exchange finished higher for the third straight session on Tuesday, as investor sentiment boosted a wave of record highs for the Kingdom's stocks.
Both the main and parallel indexes advanced. At closing bell, TASI rose 1.5 percent to 11,844 points, and the parallel Nomu market was up 1.2 percent to 26,144 points.
The top-performing stock was the recently listed Tadawul Group — the owner of the Saudi bourse, which saw 10 percent gains, up to SR142 ($37.8) – its highest value since listing.
Next, Saudi Research and Media Group or SRMG, and utility provider ACWA Power were up by nearly 0.7 percent each.
With the latest gain, SRMG recorded an all-time closing high of SR233.
ACWA Power is set to begin the first phase of the Dubai-based Noor energy 1 project, as announced in a bourse filing on Monday.
One of the Kingdom's largest by market value, Al Rajhi Bank closed at SR150, having surged almost 3 percent in today's session.
Shares of Alinma Bank and the Saudi National Bank, or SNB, also reached record highs, ending at SR26.7 and SR71, respectively.
United Electronics Co., known as eXtra, finished 2.2 percent lower, even as it posted its highest-ever estimated annual profit for the fiscal year 2021, of SR397 million.
The hike came in line with oil prices, as Brent crude rose to $82 per barrel, and US WTI crude oil reached $79.4 per barrel as of 3:50 p.m. Saudi time.