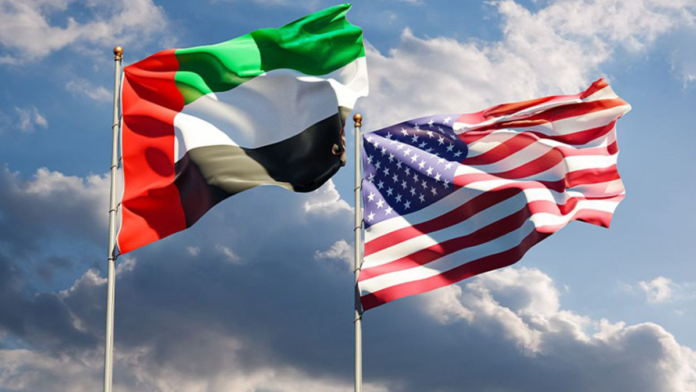 The United Arab Emirates (UAE) and the United States (US) have signed a partnership to catalyze $100 billion of investments in clean energy projects in both nations and emerging economies by 2035.
The President of the UAE, His Highness Sheikh Mohamed bin Zayed Al Nahyan, witnessed the signing of a comprehensive strategic partnership. The UAE Minister of Industry and Advanced Technology and Special Envoy for Climate Change, Dr. Sultan Al Jaber, and Special Presidential Coordinator, Amos Hochstein, signed the Partnership on behalf of the UAE and the US. The signing agreement took place at the ADIPEC (Abu Dhabi International Petroleum Exhibition and Conference) 2022.
During the signing ceremony, many UAE ministers were also present. Yousef Manea Al Otaiba, the UAE Ambassador to the US, Sheikh Mohammed bin Hamad bin Tahnoun Al Nahyan, the Advisor for Special Affairs at the Presidential Court, Khaldoon Khalifa Al Mubarak, the Chairman of Abu Dhabi Executive Affairs Authority and Member of the Executive Council and Brett McGurk, the US National Security Council Coordinator for the Middle East and North Africa (MENA), were also present.
According to Emirates News Agency (WAM), the clean energy projects have production capacities of 100 gigawatts. The projects are in line with the UAE's goals to reach climate neutrality by 2050.
Under the agreement, the two countries would provide technical, project management, and funding assistance for commercially and environmentally sustainable energy projects in developing countries. The projects also aim to encourage concrete investment and collaboration toward decarbonization across all industrial sectors by 2030.
Reportedly, a team of experts will also be formed within the framework of this partnership to support the implementation of the projects.
Earlier, the US and the UAE established the Agriculture Innovation Mission for Climate (AIM for Climate) in order to increase investment in climate-smart agricultural innovation and R&D worldwide.