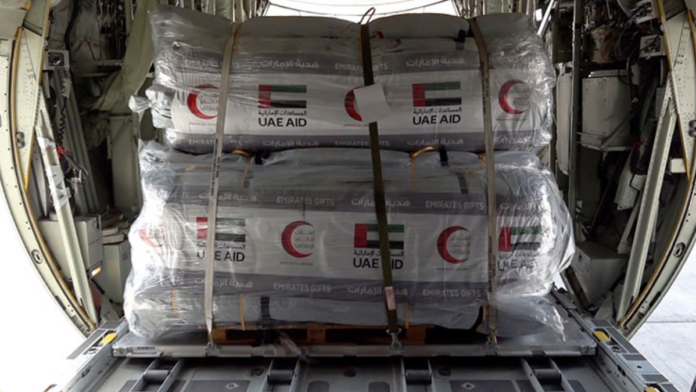 The United Arab Emirates (UAE) has launched an air bridge with the International Humanitarian City (IHC) in order to transport urgent relief supplies, medical items and equipment to earthquake-hit areas in Syria and Turkiye.
The airbridge will facilitate the transportation of emergency aid to earthquake victims in Syria and Turkiye.
The first shipment has been sent on EK 121 and EK 117, consisting of high thermal blankets and family tents from the United Nations High Commissioner for Refugees (UNHCR), the World Health Organisation (WHO) and World Food Programme (WFP) relief cargo of medical kits and shelter items. The shipment of relief aid has been coordinated by the IHC, a global hub for humanitarian emergency preparedness and response located in Dubai Industrial City.
Emirates SkyCargo, a cargo airline based in Dubai, has also planned to dedicate cargo space for around 100 tonnes of humanitarian relief goods to Turkey for the next two weeks.
Reportedly, the UAE aid will be delivered by local organisations to affected areas in southern Turkiye and northern Syria. In recent days, the UAE has been sending humanitarian assistance to Turkiye and Syria.
His Highness Sheikh Ahmed bin Saeed Al Maktoum, Emirates' Chairman and Chief Executive, said, "We are working with experts like the IHC to provide urgent relief to those affected and displaced by the destructive earthquakes." His Highness said that the three daily flights to Istanbul would provide consistent medical supplies in order to support Syria and Turkiye.
Recently, Emirati search and rescue teams saved two people in Turkey as part of the 'Gallant Knight/2' operation to support the earthquake victims. The rescue team saved an 11-year-old child and a man aged between the 50s and 60s. UAE's Joint Operations Command of the Ministry of Defence launched the Gallant Knight / 2 operation to provide assistance to earthquake victims in Turkiye and Syria.
Earlier, the search and rescue teams rescued a Syrian family of four from the rubble in Turkiye. Emirati search and rescue teams rescued a mother, her son and two daughters.
The UAE has also launched a public donation campaign to collect money for earthquake victims. Emirates Red Crescent, the humanitarian arm of the government, urged the public to donate money to this campaign.
When the destructive earthquake hit Turkiye and Syria, the UAE President, His Highness Sheikh Mohamed bin Zayed Al Nahyan, ordered the provision of $100 million to help earthquake victims. The UAE sent US$50 million each to Turkiye and Syria to help earthquake victims.
The UAE also established a field hospital in Turkiye to evacuate people and help them. Sheikh Mohammed bin Rashid Al Maktoum, the Prime Minister of the UAE, directed $13.6 million in humanitarian aid to help earthquake victims in Syria.
The UAE has always provided humanitarian relief aid to various countries irrespective of region, religion and diplomacy.