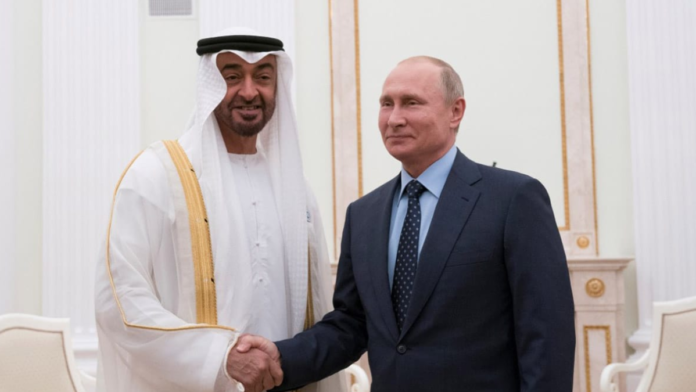 The President of the United Arab Emirates (UAE), Sheikh Mohamed bin Zayed Al Nahyan, met with the President of Russia, Vladimir Putin, in Saint Petersburg, a city in Russia, on Tuesday.
According to Emirates News Agency WAM, Sheikh Mohamed will discuss with the Russian president "the friendly relations between the UAE and Russia along with various regional and international issues and developments of common interest."
Both nations share broad development potentials and positive prospects based on solid historical foundations of mutual respect and common interests. The two countries established diplomatic relations in 1971. The Russian Orthodox Church built in Sharjah, a city in the UAE, reflects the Russians' and Emiratis' mutual respect for the others' religions. Reportedly, the UAE is also the first Arab destination for Russian investments and is the largest Arab investor in Russia.
For Russia, the UAE is an important country in terms of trade. They have a long-standing economic relationship. In 2022, Russia exported $161M and imported $15.1M from the UAE. Russian exports to the Emirates consisted of precious metals and stones, steel, as well as ferrous metal products, machinery, equipment, vehicles, chemicals, food, wood, paper, and cardboard. The top exports were Diamonds and Refined Petroleum.
UAE's foreign ministry said that the UAE president's visit to Russia aims to help reach "effective political solutions" to the Ukrainian crisis. The UAE is one of the countries most eager to find political and diplomatic solutions to any crisis or war that breaks out in the world. The Emirates has always been on the side of people in wars and crises.
The UAE is also keen to establish the best relations with Russia based on stability and international security. Russia's relationship with the UAE has also strengthened significantly in recent years.
The UAE president's visit to Russia shows how the UAE and Russia are becoming more important to each other. The growth of this bilateral relationship must also be seen in a wider context of an increasingly multipolar world in which the UAE is increasing its relationship with Russia to help people in need. Moscow also aims to cultivate deeper ties with the UAE.
Earlier, Sheikh Abdullah bin Zayed Al Nahyan, the Minister of Foreign Affairs and International Cooperation of the UAE said that the UAE and Russia enjoy a solid strategic partnership.
Vladimir Putin previously visited the UAE in 2019. He met with various UAE leaders. The two countries also signed deals in the energy, tech and health sectors.