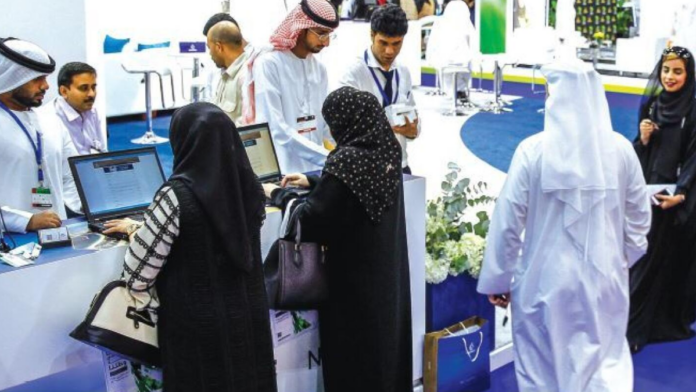 The Ministry of Human Resources and Emiratisation (MoHRE) and the Emirati Competitiveness Council (Nafis) have implemented steps to limit negative employment practices in the United Arab Emirates (UAE).
The salary support initiative campaign of the UAE would provide training programmes to people in the private sector. The Emirati Talent Competitiveness Council (ETCC) also launched the 'NAFIS Your Way' campaign to showcase the success stories of Emiratis in the private sector.
What is Nafis?
Nafis is a federal programme that aims to empower Emiratis to occupy jobs in the private sector. The programme was launched last year in order to support the private sector and boost the economy.
Ghannam Al Mazrouei, secretary-general of ETCC, has said that the private sector is the backbone of the UAE's economy. Providing a decent life for Emiratis and empowering them to take jobs in the private sector will remain the leadership's approach and the main priority of the UAE. Building a more balanced national economy is the main approach to development.
The UAE aims to encourage people to focus on knowledge and advanced skills and work in various sectors. The Nafis programme has formed partnerships with private sector organisations to increase UAE nationals' contribution to the economic advancement of the country. With the help of the programme, the UAE aims to prepare its youth to enter the era of economic competitiveness based on skills and modern developments.
According to the new Emiratisation rule, a company caught carrying out fake Emiratisation to get Nafis benefits could face a fine between Dh20,000 and Dh100,000 for each bogus Emirati employee.
Benefits offered by Nafis to Emiratis through the Emirati Salary Support Scheme
The UAE would support the salaries of Emirati Nationals wishing to work in training programmes in the private sector. With the help of the Emirati Salary Support Scheme, full-time employees are eligible for a top-up of the difference between their salary and the relevant target salary, no greater than a specified ceiling amount.
The Nafis programme aims to fill 75,000 private sector jobs in the next five years. The programme has also created a partnership between the public and private sectors for the country's economic future.
Recently, the UAE announced increasing the support for the salaries of Emiratis in the private and banking sectors under the Salary Support Initiative Campaign. This move would create a partnership in the private and banking sectors for the benefit of UAE citizens.