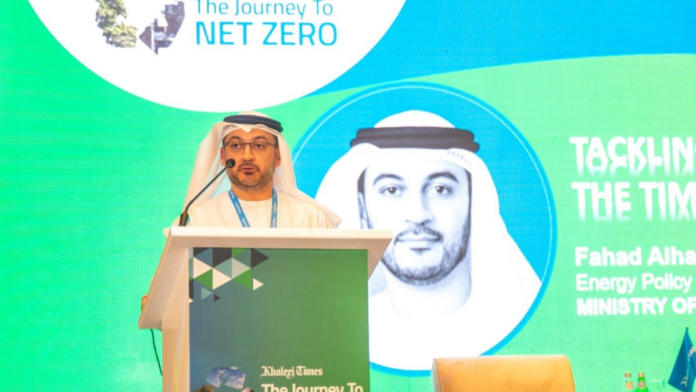 The United Arab Emirates (UAE) has planned to invest nearly Dh600 billion in clean energy in order to achieve the goal to reach climate neutrality by 2050.
The announcement was made by engineer Fahad Al Hammadi on behalf of engineer Youssef Al Ali, Assistant Undersecretary for the Electricity, Water, and Future Energy Sector at the Ministry of Energy and Infrastructure of the UAE. Al Hammadi attended "The Journey to Net Zero conference" by Khaleej Times on Wednesday.
Al Hammadi revealed in a speech that the UAE is looking for new economic growth opportunities and ways to combat climate change. Al Hammadi also said that the UAE has established its global position in the clean energy sector. He praised the UAE for supporting environmental sustainability and cutting down carbon emissions.
The announcement is in line with the UAE's goals to reach climate neutrality by 2050. The ministry has said that energy and climate are the top priorities for the UAE. According to the Ministry of Energy and Infrastructure, energy and climate are also major elements in the Net Zero 2050 strategy.
The UAE is the first country in the Middle East & North Africa (MENA) region to announce its goal to achieve climate neutrality by 2050. According to Al Hammadi, the Al Reyadah Project in Abu Dhabi, the capital of the UAE, is the first facility in the MENA region to use and store carbon on a commercial scale.
Al Hammadi also praised the UAE for investing in clean energy projects. He said that the UAE has invested in renewable projects across more than 40 developed and developing countries.
Earlier this month, the UAE and the United States (US) signed a comprehensive strategic partnership to catalyze $100 billion of investments in clean energy projects. The joint initiative would help to produce 100 gigawatts of clean energy in the US, UAE, and emerging economies.
Sheikh Mohamed bin Zayed Al Nahyan, the President of the UAE, has always stressed the need to adopt measures to reduce the effects of climate change and global warming.